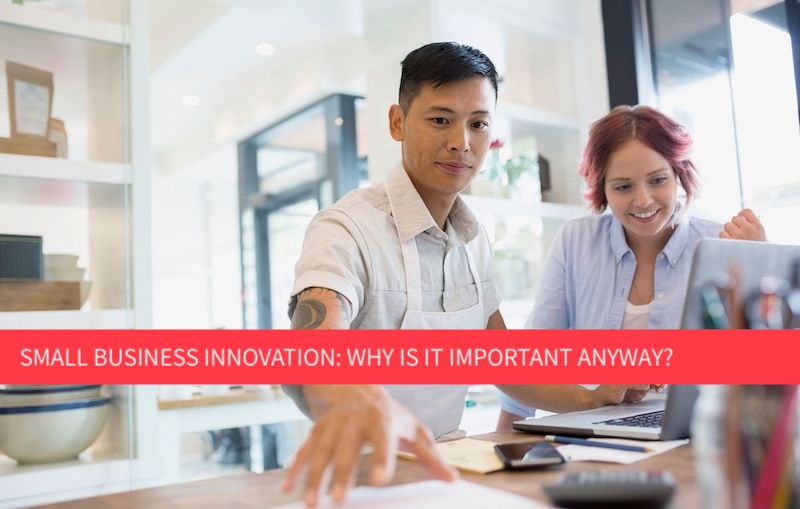 07 May, 2019
Small Business Innovation: Why is it important anyway?
With corporates spending millions of dollars on innovation every year, small businesses are at risk of falling behind if they too don't look for ways to embrace technology and new ways of doing business.
In this article:
What is innovation?
Why should you care?
How can you be more innovative?
So, what is innovation?
This can be a contentious question as you'll most likely get a different answer from anyone you ask.
The definitions I like the most talk about developing new products, services or processes that add value to an organisation and its stakeholders.
So let's break that down and see what innovation means for a small business. You can ask yourself these questions to find out if your business is being innovative:
Have you developed any new products or services recently?
Have you improved any internal processes recently?
Have these new products, services or processes added value to your organisation? (lower costs, higher sales, increased profits or improved value of business overall)
Have these new products, services or processes added value to your organisation's stakeholders? (employees, business partners, customers, the community)
If you answered yes to these questions, congratulations, you are most likely seeing the benefits as the "Australian Innovation System Report 2016 — Snapshot" claims that on average, every $1 invested in innovation returns $2 in sales.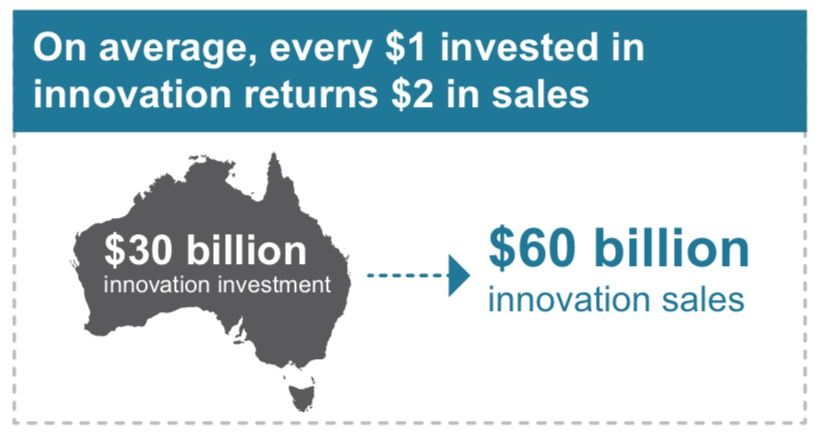 Figure 1. On average, every $1 invested in innovation returns $2 in sales. Australian Innovation System Report 2016 — Snapshot
Why should you care?
Research
According to the Australian Innovation System Report from 2016, there are many really good reasons you should care about being an innovative business. Here are just a few of those reasons:
4x higher for range of goods and services offered
2x higher productivity
1.4x higher for profitability
5x higher for number of export markets targeted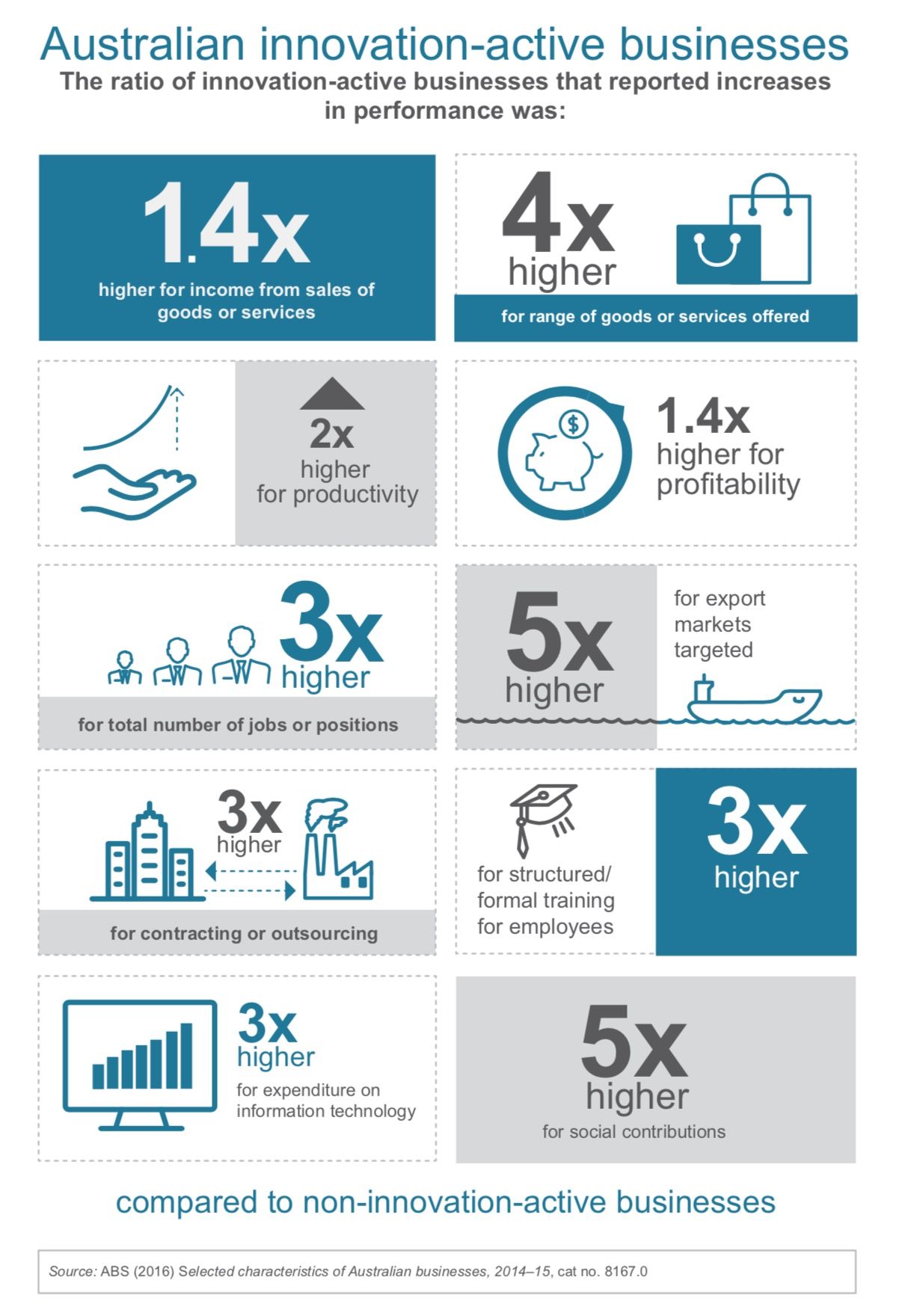 Figure 2. Australian Innovation-active businesses. Australian Innovation System Report 2016 — Snapshot
Examples of innovative companies
Would you agree that Google, Apple, Uber, AirBnB and Samsung are considered to be innovative businesses? So what is it about these companies that makes you think of them as innovative? Is it their products? Their customer service? Their marketing? Or perhaps even their success?
Customers like brands who are seen as innovative. So it pays to think about how you can give the impression that you're a forward-looking company that embraces technology and is ready for the future.
Benefits of being innovative
There are so many great benefits for undertaking a strategy of innovation in your business. Here are some big ones:
Happier customers
If you think about your reaction when you interact with a company whose products are great to use and has obviously put a great deal of thought into the customer experience, how does it make you feel? If you're like me, you range from quietly impressed through to ecstatically telling all your friends.
Happier employees
People like to work for businesses that are innovative. It helps them feel like they are making a difference to people's lives. So not only will you attract higher quality people, they will stick around longer.
Higher sales
When you launch innovative new products or services, you will attract new customers, keep existing customers longer and stand out more from your competition.
Lower costs
Being innovative shows you new ways to be more efficient with your resources and processes, keeping your costs low and perhaps even reducing them.
Higher profitability
Besides being a natural outcome of higher sales and lower costs, profitability can also be improved by increasing prices. With new innovative products, customers may see more value in your products and be prepared to pay more for them.
Less paperwork
Innovation is not just about customer facing activities, it's also looking at your back-office processes and seeing what might be automated or simplified. This is hugely important to small business owners who are already very time-poor and looking to spend more time with their family or friends.
More time to work "on" your business
Following on from the previous point, undertaking innovative activities is the best way to be spending time on your business. Not only does it pay off, it is fun.
How can you be more innovative?
With most businesses in Australia still not undertaking innovation activities, you can really be ahead of your competition by acting now. According to the Australian Bureau of Statistics, only 30.6% of small businesses (1-4 people) are conducting innovation activities.
There are a number of cost-effective methods you can utilise to be a more innovative business. Here are some of the important factors:
Make time for creative thinking
Making time to work on your business is one of the biggest challenges for small business owners but it really is the most important factor affecting your ability to be an innovative company. Whether you can set a side a brainstorming session every week or month, anything will help.
Delve into the minds of your customers, business partners, employees
Yes, you probably already have a never ending flow of new ideas and that's great. But don't forget that your employees, customers and even suppliers probably have amazing ideas that you should look to tap into.
Diversity
The reason diversity is such a great goal for any business is that it brings a wider range of ideas into the mix. People from varying backgrounds, cultures and experiences will come up with different solutions to the same problem.
Act on good ideas
It's great to come up with and discuss new ideas but you need to capture them, evaluate them and then do something with them. Do you have a suggestion box in the office? If you do but don't do anything about the ideas, people will stop putting ideas forward.
Invest in innovation training
Creative thinking and innovation is not a inherent skill for humans. It needs to be learned and practiced for best results. There are not many innovation workshops out there designed for small businesses as it is still a very new field. Most providers are aiming their services at corporates where the big money is but that doesn't help small business owners.
The types of training that you should look for is:
Design thinking workshops
Service design workshops
User experience design workshops
Technology for small business workshops
Business model canvas workshops
Lean startup workshops
Be prepared to experiment
A part of being innovative is not being afraid to experiment. And you don't need to break the bank either. If you follow Lean principles you can prototype a simple version of the innovation, try it with some 'beta' customers and learn from the experience before investing more heavily in a 'prime time' rollout.
If reading this has highlighted a need to be more innovative in your business, feel free to reach out and ask questions or come to one of our upcoming workshops. Small business innovation is what we specialise here at Business Design Institute.
Acknowledgement
Business Design Institute acknowledges and pays respect to the Yugambeh people of the Gold Coast, who are the traditional custodians of the land, as well as all their descendants both past and present.
We also acknowledge the many Aboriginal people from other regions as well as Torres Strait and South Sea Islander people who now live in the local area and have made an important contribution to the community.